Asphalt Contractor in Sioux Falls, SD
Stevenson's Asphalt is the preferred paving company for commercial and residential customers residing throughout South Dakota, Iowa and Minnesota. Our abilities include asphalt installation for jobs of all sizes, as well as hot crack filling, patching, chipping, asphalt repair, sealcoating and more. Contact us today for a free estimate on your asphalt project. We offer commercial and residential asphalt services throughout South Dakota, Iowa and Minnesota.
Pouring & Paving Superior Asphalt Surfaces
Asphalt is a wonderful material for all types of surfaces, including driveways and parking lots. It stands up to heavy abuse, weathers the elements well and look great when maintained. To take full advantage of this material, however, you need to work with asphalt contractors in Sioux Falls, SD who can unlock its benefits through quality pouring and paving.
For more than 30 years, Stevenson's Asphalt has been the gold standard for asphalt throughout the Midwest. We're equipped for pouring and paving jobs of all sizes, on both residential and commercial properties. This includes grading the site for a proper installation and working diligently to ensure every square inch is properly paved. We take pride in our work, which is why we also offer sealcoating services to protect your asphalt and keep it looking great. Or, if signs of wear do start creeping through, we can deliver a variety of repairs like patching, chipping and hot crack filling. From your driveway to a major commercial parking lot, we welcome the task of paving and maintaining your asphalt.
To get a surface that looks great and is ready to stand up to everything you expect from it, contact Stevenson's Asphalt for asphalt paving in Sioux Falls, SD. Let us prove our reputation for excellence and add you to our long history of satisfied customers!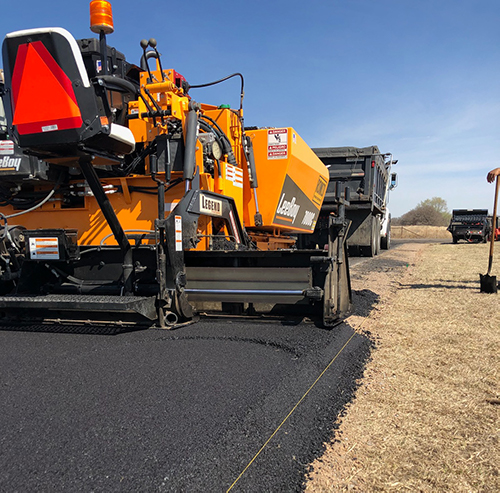 Our business is fully licensed, bonded and insured. We strive to always present ourselves as a reputable provider of asphalt services, so you're confident doing business with us.

We've been in business since 1984 and are proud to be family-owned and -operated. We pass on our family values to our customers in the form of honesty, integrity and quality.

We strive for perfection and stand by our high-quality workmanship. We don't collect any money until the job is performed to completion and all is well with the customer.

We welcome projects of all sizes, from paving your residential asphalt driveway, to sealcoating and maintenance for your commercial parking lot.
Proven Asphalt Services
For asphalt services backed by high-caliber workmanship and guaranteed results, choose Stevenson's Asphalt.
We welcome residential and commercial projects, big and small.
Providing asphalt paving and repairs to the businesses and residents in:
Sioux Falls, SD
Beresford, SD
Brandon, SD
Tea, SD
Madison, SD
Flandreau, SD
Harrisburg, SD
Worthington, MN
South Dakota
Iowa
Minnesota
& the surrounding areas.