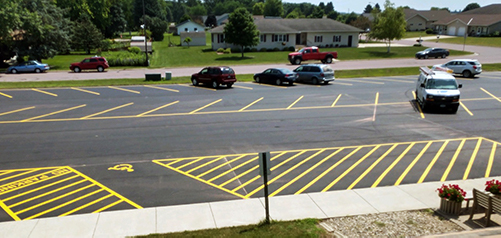 Stevenson's Asphalt gives you access to a complete scope of services, tailored around the needs of your unique paving project. We deliver everything from asphalt paving and repairs, to sealcoating and maintenance. Our abilities also extend to recycled asphalt installation and grading:
Asphalt paving

Our teams have been paving asphalt surfaces of all sizes for more than 30 years! From your residential driveway to your commercial parking lot, let us lay the asphalt that'll look great and provide protection for years to come.

Asphalt sealcoating

Don't let the hot sun, heavy rain and constant wear take a toll on your asphalt. Through sealcoating, we'll protect it from the elements and keep it in better condition for longer. Our sealcoating is simple and applicable for any asphalt surface.

Parking lot maintenance

After just a short time or a few Midwest winters, your parking lot may start to feel the effects of constant wear. We provide parking lot maintenance in Sioux Falls, SD that sees holes and cracks fixed, lines striped and the surface coated for ultimate protection.

Chip sealing and crack filling

Nip asphalt imperfections in the bud before they become severe! Give us a call for chipping and hot crack filling, to seal up any areas where moisture might pose problematic or debris might get into your asphalt.

Asphalt repairs

For larger holes, divots and sunken areas, we're able to perform asphalt repair in Sioux Falls, SD. Our experienced crews make quick work of damaged asphalt to restore its appeal and integrity, so it holds up to expectations longer and with less required maintenance.

Recycled asphalt installation

Recycled asphalt is cheaper and can be installed in virtually any conditions! If you're looking for a long-term, reliable asphalt solution, ask us about RAP installations and let us help you explore the benefits.

Excavating

If your asphalt project demands light excavation and earthmoving before it can get started, we're happy to help. We have the right equipment and will grade your project for best results when asphalt is poured and paved.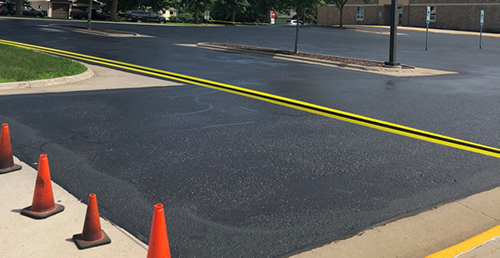 Get in Touch
The results of your asphalt project depend on the skill of the crew handling it. For truly exceptional results, regardless of the project or scope of work involved, choose Stevenson's Asphalt. Contact us today at 605-360-1035 with the details of your project and we'll see it through to completion with the highest results in mind.